It was love at first sound.
I've been playing guitar since 1981 and I started playing Ki ho'alu (Hawaiian slack key or "open" tuning) in 1996.  Over the years, I've studied Slack Key with Hal Kinnaman and Keola Beamer.
On my new CD, "Out of Eden", you'll hear influences ranging from Hawaiian Slack Key finger-style, to Leo Kottke / Americana, to Mississippi Delta Blues bottle-top slide.
I've recorded seven albums of Hawaiian slack-influenced original music and standards. I founded the Long Island Hawaiian Slack Association, a non-profit group of Long Island-based Hawaiian slack key guitar players (lihsa.org) and I'm a board member of the Long Island Fingerstyle Guitar Club.  Bring your guitar and play a song or two every second Wednesday of the month at the open mic (www.lifgc.com).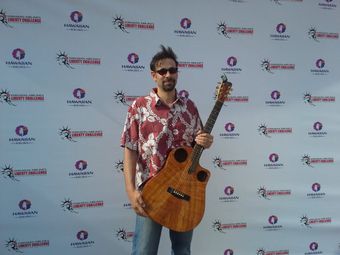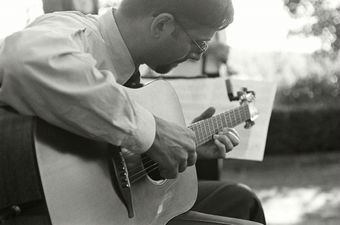 Ki ho'alu, which literally means "loosen the key," is the Hawaiian name for the solo fingerpicked style unique to Hawai'i. In this tradition, the strings (or "keys") are "slacked" to produce many different tunings, which usually contain a major chord, or a chord with a major 7th or a 6th note.
Slack key derives its unique sound from techniques such as "hammering-on" and "pulling-off." These techniques mimic the yodels and falsettos common in Hawaiian singing. Harmonics and slides are also common.
The roots of slack key can be traced to the 1830's when the guitar was first introduced to the islands by the Spanish and Mexican cowboys who were hired to teach Hawaiian cowboys how to handle an overpopulation of cattle.
My slack key journey was launched by a chance listening at Tower Records in 1996. It was love at first sound. 
Here are some of my favorite tunings to play in:
G Major or "Taro Patch" Tuning (D-G-D-G-B-D)
Jeff Curtis D Tuning (D-A-D-A-D-E) (Very similar to Irish C Tuning: C-G-C-G-C-D)
C Major Tuning (C-G-E-G-C-E)
D Major Tuning (D-A-D-F#-A-D)
D Wahine (D-A-D-F#-A-C#)
F Wahine Tuning (C-F-C-G-C-E)
and of course ..
Standard or "Western" Tuning (E-A-D-G-B-E)
I've also recorded songs in:
C-Wahine or "Keola's C" Tuning (C-G-D-G-B-E)
Leonard's C or "Drop C" Tuning (C-G-D-G-B-D)
G-6th Tuning (D-G-D-G-B-E)
Old Mauna Loa (D-G-D-E-A-D)
G-Major-7th or "Double Slack" (D-G-D-F#-B-D)
G Minor Tuning (D-G-D-G-Bb-D)
Irish D Tuning (D-A-D-G-A-D)
Check out my custom built Koa two-hole (puka-puka) guitar named "Kaimana":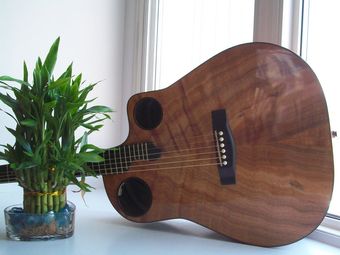 The guitar was built by Vance Peters, Bucksport, Maine. http://www.vancestropicalfish.org/  (Yes .. the link goes to a tropical fish store .. Vance sells tropical fish and builds awesome guitars.  His guitar page is down right now, so contact him via the fish site.)
Check out http://www.lihsa.org/luthiers.html to see Vance building my "Kaimana" guitar.
If you want to hear some of my older CD's, check out https://benkaimanadiamond.bandcamp.com
Want some video?  Check out my YouTube channel at https://www.youtube.com/user/kaimanaslack  Also check out Ben Diamond and Jeff Brody live on TV from 4/9/2016 - "Wes Houston Presents"